https://youtu.be/n9CKr3K-Qww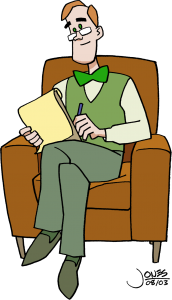 DR. FREDERICK WERTHAM BLINK has an unlikely profession:
Psychologist to the screwed-up Superheroes of FIRST CITY.
DR. BLINK helps the heroes triumph over their fears, knock out their worst nightmares and leap their tallest hang-ups in a single bound!
But Dr. Blink has a harder time healing himself. While his clients battle death rays and super- revealing costumes that speak to 'Daddy Issues,' the Doctor fights just as mightily with single parenthood, middle-age, and an ever-receding hairline. Not only did his wife leave him, but EMMA, his teenage daughter, despises him. To top it off, his breakthrough book, "Super Soup for the Super Soul," might just have been a super-fluke!
Can Dr. Blink juggle the Earth's neediest heroes, an angry teenage daughter, his own insecurities, and his feelings for TRACY, his new secretary, without going crazy?