Hero to the Superheroes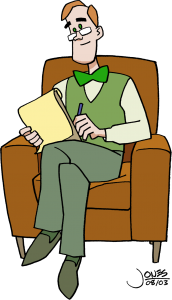 Frederick Blink grew up believing there was something super about every human. Now he's discovering there's something human about every superhero – even the aliens!
Accidental founder of the field of Supra-Human Psychoses and best-selling author, Dr. Blink is deeply in touch with the problems superheroes face. He is, however, not so much in touch with his own issues.
Several years ago, Dr. Blink was a simple family man with a wife, a daughter, and a modest practice helping those whose only powers seemed to be their ability to avoid paying their therapy bills. It was a calm, mostly pleasant life.
One morning, the doctor awoke to discover his wife
had left him, leaving no note, and no explanation. She simply disappeared into the night. (What he still doesn't know was that she was a superhero herself – her secret identity about to be exposed, she fled to save her husband and their young daughter from harm.)
Blink was heartbroken.
Desperate for a fresh start, he packed up, moved to First City, and established a struggling new practice. During one of his first sessions, a pair of brawling heroes smashed through his office wall. Watching them battle and bicker, Blink had an epiphany: Superheroes are FAR more screwed-up than the rest of us.
Writing furiously day and night, he penned his breakthrough book, the surprise smash-hit "Super Soup for the Super Soul." Soon, his career was booming. (Sometimes literally, depending on the hero's mode of transportation).
As the series begins, Dr. Blink is famous. He handles the superhero's problems with wit, grace, and the not-so-occasional misstep. Still, the edgy, rock star lifestyles of First City's heroes don't always result in comfortable sessions for the mild-mannered, middle-America, self-conscious psychologist – the doctor would really rather not hear about the new nickname Major Amazing gave his private parts ("Space Junk").
Dr. Blink relies on his new receptionist, Tracy, far more than he realizes. And though Blink longs for his lost wife, he's strangely attracted to his super-organized new assistant. He realizes this is utterly unprofessional. Fortunately, he's far too busy (not to mention socially inept) to do anything about it.
Dr. Blink is often stressed, overworked, and wracked with self-doubt… like any divorced, middle- aged parent who is single-handedly responsible for the mental health of every single superhero in the world's single greatest city!
Dr. Blink…
Is smart, kind, and well-intentioned.
Is over-committed, easily stressed, and racked with self-doubt.
Is painfully aware that he is a tiny, fragile mortal man surrounded by gods.
Is devoted to (but perplexed by) his increasingly rebellious teen daughter.
Is haunted by the mystery of his wife's disappearance.
Feels guilty (and unprofessional) about his attraction to Tracy.
Busies himself with others' hang-ups to avoid dealing with his own.
Is considering a committed relationship with that bottle of Scotch he keeps hidden in his desk.